Organisation
This is Eltek - an overview
We are a global company, consisting of some 2,000 individuals. We do business in 100 countries. Still, we are noticeably and uniquely one Eltek, with shared values and a common company culture.
A few basic facts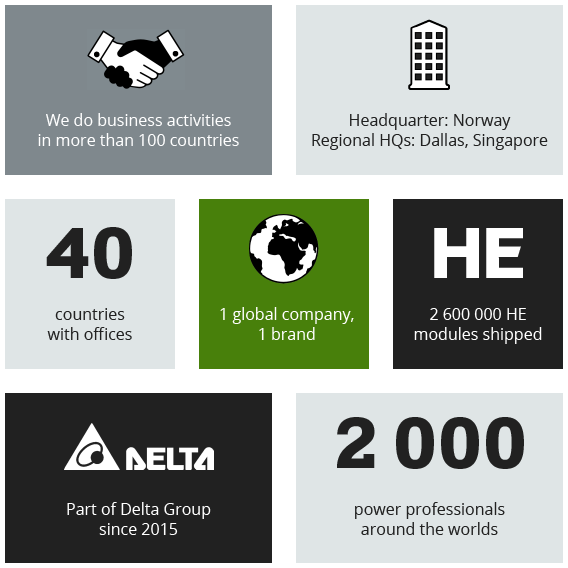 Global company and brand
Approximately 2,000 employees
Offices in 40 countries
Business activities in more than 100 countries
Part of the Delta Group since 2015
Corporate headquarters in Drammen, Norway
Regional headquarters in Dallas, US and Singapore
Invented HE (high efficiency power conversion), several other breakthroughs in power conversion
Delivering premium power solutions for industries Telecom, Data Center, Power Utilities, Railway & Metro, Marine & Offshore and Rural Electrification
The essence of Eltek
More than anything, we are power experts and extremely ambitious when it comes to power conversion technology.
We are on a journey to improve, innovate and be a leader in our field. Our history is evidence we have done so for nearly half a century, and come every new day, we attempt to do even better what we did well the day before.
We are very competitive with a mindset of top athletes – we love winning as much as we hate losing.
Our offices around the world are of local origin and are manned by local people who have an intimate knowledge of local markets and culture. Still, we are noticeably and uniquely one Eltek, with respect for cultural differences as a fundamental value.
We invest in our relationships with customers. We aim to play the role of a mentor within power conversion, providing the best solutions, services and advice our customers can get.
What we do
We are a global power specialist that develops, manufactures, sells and distributes cutting-edge power solutions and services.
Our solutions provide power and backup power required for efficient and stable operation of essential infrasture that makes the world work, such as Telecom, Power Utilities, Data Centers, Railway & Metro, Marine & Offshore and Rural Electrification.
Where we come from
We were established in 1971, and are headquartered in Drammen, Norway. Our first line of business was power supplies for telecom in the harsh Nordic climate. This formed the basis for international expansion and a leading position within telecom power – from where we have expanded across the world and to other sectors where high-capacity, reliable and efficient power supply is crucial.
Our expertise
Our expertise lies in power conversion, i.e. the process of converting one type of current, i.e. AC, to another, DC, and in the process adjusting the voltage, making it suitable for specific delicate electronic equipment. This core functionality is combined with battery backup, distribution and advanced monitoring and control in complete power systems for industrial applications where the efficiency and reliability of power supply is business critical.

Our USP is: High efficiency power systems that reduce the cost and environmental footprint of energy usage, and that reduce the cost of ownership of power systems
Where we are and where we are going
We are one of very few power conversion experts with global capabilities. We have earned this position through technological leadership and a clearly stated ambition to stay at forefront, focusing on and investing in R&D. Our ambition is to continue to lead the way in power conversion, in order to make a difference for customers and for the climate.
Our vision and brand
Our vision is:

The greatest power in the industry

This reflects our ambition to be a leader both when it comes to technology and expertise, market shares, brand recognition and commercial success – in a way that contributes to a more sustainable future.

We invest in branding and professional marketing, in order to stand out in the market, and convey the qualities of a leader with precision and high efficiency. A strong brand platform and sharp visual identity also focus internal energy and builds pride.

Our company slogan is:

Experience the power.

This reflects an invitation to interact with us and experience the benefits, from fruitful dialog and service to the power of our leading solutions.
Our customers
Our customers include many leading companies in their lines of business, ranging from large multinationals to smaller national or local companies. What they all have in common, is a preference for quality, reliability and value for money. A large portion of our customers have had a long-standing relationship with us.
How we are organized
Our organization is global, yet firmly rooted in each local market where we are present. We have offices in approximately 40 countries, and sell our solutions in 100 countries, direct or through third parties.

We have a well-defined supply chain designed to keep the global process running efficiently – so that customers all over the world get their solutions where and when they should.
Our origins and headquarters are in Drammen, Norway, just outside Oslo. This is where R&D, corporate management, marketing and product management, as well as Nordic sales, are located.
Part of the Delta Group
Eltek has been part of the Delta Group since 2015. However, Eltek operates as a separate entity and brand in the global market.
Management Team
Eltek's management team combines commitment and ambition with extensive experience in the global electronics equipment industry.
Colin Howe - President
Born: 1963
Joined Eltek UK in 1989, became Managing Director in 1999
Drove US growth and overhauled Valere following acquisition
Promoted to EVP of Global Sales in November 2008 and to CEO Eltek Valere in October 2010
Promoted to Eltek Group CEO in September 2011
Appointed Eltek President 2015
Frode Vagen - Chief Quality Officer/ Chief Technology Officer
Born: 1958
Joined Eltek 1994 and promoted to Quality manager in 1996 and to Chief Quality Officer in 2003
Achieved successful implementation of Eltek Traceability System, world class quality reporting tools and risk analysis methods
Oystein Larsen - Director Operations
Born: 1970
Joined Eltek 2001, promoted to R&D Engineering manager in 2003 and to Global Manager for Product Engineering and Supplier Processes in 2010
Promoted to Director of Supplier Quality Management in 2014, and to Director Operations in March, 2020
Allen Pitts - Americas Regional President
Born: 1969
Joined Eltek 1992 as sales/product manager
Developed the business in Latin American Region from 2003 to 2008
Promoted to Americas Regional President in 2008
David Leal - Asia Pacific Regional President
Born: 1971
Joined Eltek 2008
Vice President of Sales, North America 2010 - 2014
Promoted and relocated to Singapore from Dallas, TX in 2014
Assumed Regional Sales President, APAC role in 2015
Company Registrations
Eltek AS
Organization number: 977529964
Company Form: AS
Main office: Graaterudveien 8, 3036 Drammen, Norway
Registered in: The Brønnøysund Register Centre