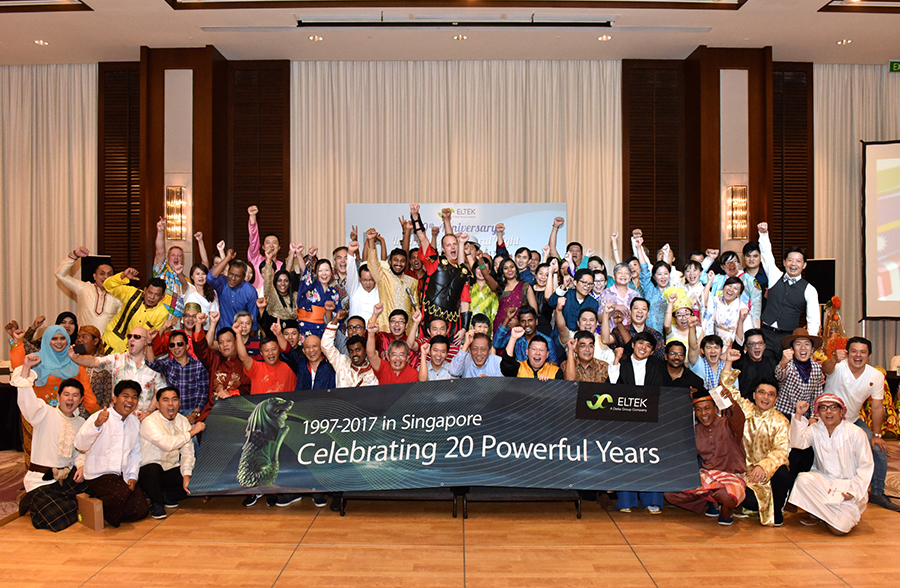 Organisation
Celebrating 20 powerful years in Singapore
2017 marks the 20th anniversary of Eltek's establishment in Singapore. What started out as the first Eltek sales office in South East Asia has grown both in size and stature to become the regional headquarters for the Asia Pacific.
David Leal, Regional President APAC, comments on the event:
"Twenty years! What a great accomplishment. The Singapore, APAC and Global Eltek team should be extremely proud of reaching this key milestone. Twenty years is represented as an anniversary in modern times by Platinum. Platinum is a precious metal that is dense, malleable, ductile and highly unreactive. It has remarkable resistance to corrosion, even at high temperatures, and is therefore considered a noble metal and because of its scarcity in Earth's crust it is highly valuable and is a major precious metal commodity.
I believe this is a great representation of Eltek Singapore. The company and its core, the people, are strong, resistant to high pressure and particularly precious. Well done to all. Let's keep the culture going for another twenty years!"
20th Anniversary dinner
The 20th Anniversary dinner was held at Merchant Court Swissotel Hotel on 3 March, attended by 100 staff and spouse. The theme for the dinner was International Cultural Night.
Over the 20 years, the Eltek spirit and values has prevailed, seeing contonous growth even in times of global recessions. Eltek now has offices in most of the countries in the region, providing safe and reliable power systems to leading industrial, telecom and data center networks. The journey could not have taken place without our outstanding dedicated staff, great partners and longstanding customers.