Organisation
Eltek Germany celebrated 130 years of continuous excellence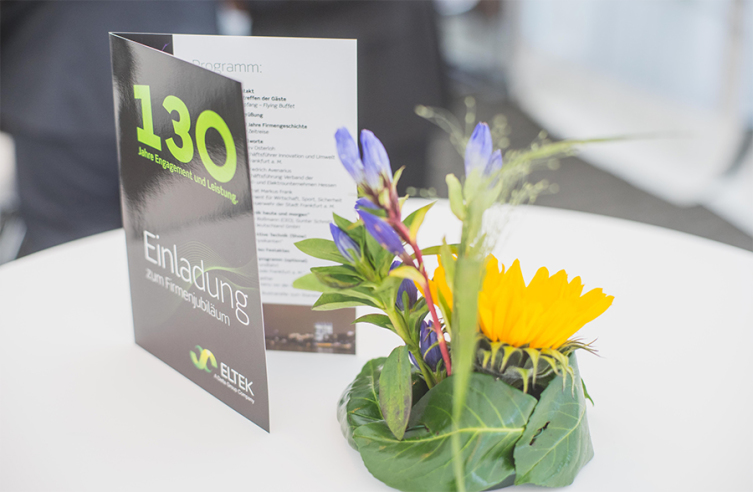 Eltek Germany is excited to have reached its 130 year anniversary as technologically ambitious company and 80 years as developer for telecommunications power supply.
The anniversary celebration took place Thursday 13 October 2016 at the company site in Frankfurt am Main. Among the 100 selected guests were various speakers from the world of politics and business as well top management from Eltek and the Delta Group.
"Today we are not only looking back on 130 years of company history, but also ahead towards continued future success as an innovative company", stated CEO Volker Rossmann.
"We especially like to thank the whole German team for its engagement and support to our long-lasting customers. At the end of the day it's the people that create success stories not groundbreaking technology alone." he continued.
The day was rounded off by an entertaining evening program and a nice downtown dinner.
Company history of Eltek Germany
1886 Company founded by Jakob Stadt and Heinrich Voigt "Start up" with 2 employees; rapid growth and development into a company with international business relations and more than 1,000 employees
1936 Delivery of the first telecommunications electricity supply
1971 Specialisation in development, construction, sales, assembly and implementation of telecommunications electricity supply systems and network substitution systems
1989 Development of the first switch mode rectifier
2000 Extension of the product programm by the product lines "UPS" and "OEM"
2003 Member of the Eltek Group, Norway
2009 Merger of the Telecom and Industrial Power Supply Systems divisions (formerly Convertronic) to form the market leading complete provider of uninterruptible power supply Technology in Germany
2011 Change of the company name into "ELTEK DEUTSCHLAND GMBH"
2015 Eltek becomes part of Delta Group