Video
Follo Line Project moves forward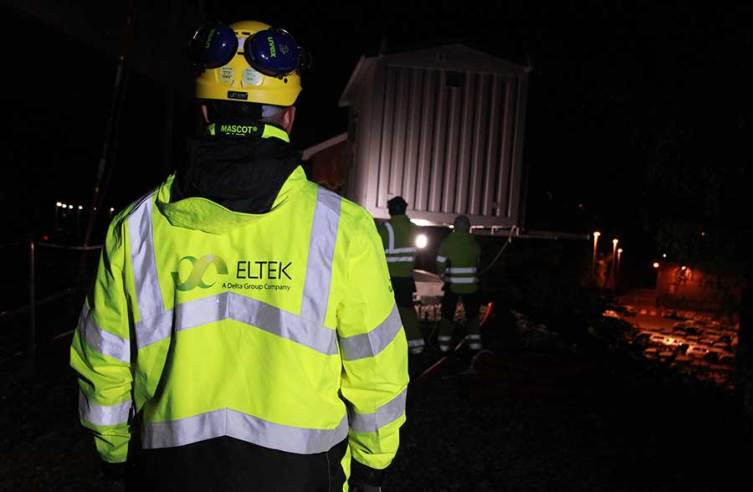 The longest railway tunnel in the Nordics relies on Eltek power systems for critical applications such as signaling, emergency lighting and telecom.
In September 2019, deliveries for the telecom systems started. This is equipment that will provide internet access and telephony in the tunnel. Three containers, or rather cabins, packed with equipment were put in place, two at Ski station and one at Kongshavn, near Oslo Central station.

The latter was transported from Sweden, where the equipment had been assembled, to its destination on a big truck.
The final stage of the journey took place from 01.00 and through the dark autumn night, until early morning. It involved cutting the power and closing down the adjacent rail track, partly closing the E18 highway, and lifting the 6 tonnes heavy cabin off the truck, swinging it over the highway fence and the railway power lines, and down some 10 meters, onto a prepared foundation.
Around 15 people from 6 companies were involved in the operation, under close supervision by project manager Mathias Rask Michelsen from Eltek and Haris Abbas, Construction Manager Telecom for the Follo Line Project/Bane Nor (the Norwegian National Rail Administration), who is commissioning the Follo Line Project to improve the rail service south east of Oslo Central Station.
The final step of this operation will be to install power modules and batteries, further down the line.

This delivery is one of many in this substantial infrastructure project, which will reduce travel time by 50% between Oslo and Ski, to 11 minutes.

This little film has distilled several hours of a nightshift into a short summary.