Impact
Eltek UK wins Vodafone supplier award for environmental innovation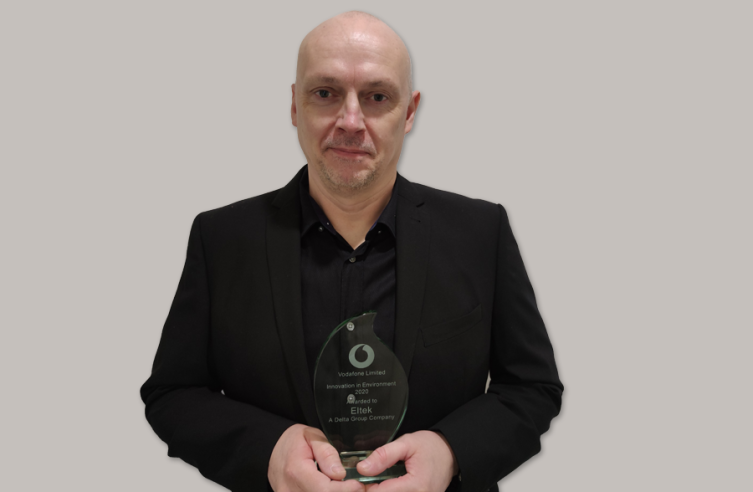 Jason Butcher, MD at Eltek UK, proudly accepts the Vodafone UK Innovation in Environment Award
Eltek, part of the Delta Group, has been a trusted supplier of power solutions to Vodafone and their telecom networks across the UK and Ireland for more than a decade.
A consistent commitment to energy efficiency and green performance has earned Eltek the Innovation in Environment Award 2020, presented by Vodafone UK to suppliers that substantially contribute to Vodafone's own efforts to reduce environmental footprint and run an ever more sustainable business.
Eltek has supplied Vodafone with a variety of power solutions over many years. The 2020 Innovation in Environment Award recognises Eltek´s focus on maximum energy utilization, reduced energy costs and a lighter environmental footprint. This aligns with Vodafone's own sustainability goals as defined in their Planet program.
We are proud to be recognised as such a supplier by Vodafone
Gary Ellis, Sales Manager, Eltek UK
Eltek is commended for promoting new and emerging technologies and engaging with Vodafone to explore new opportunities for energy and environmental savings. - The relationship between Vodafone and Eltek is an example of a customer/supplier relationship as it should be, says James Feeney, Energy Manager at Vodafone UK.
The following are projects and areas, where Eltek's innovative solutions have made a difference:
Lithium battery trials and upgrade project
High efficiency rectifier installation
Software solutions for energy optimization
Photovoltaic cells trial for Radio Base Stations
Eltek's focus as a supplier is to drive innovation and add more value through reduced environmental footprint and lower total cost of ownership, - We are proud to be recognised as such a supplier by Vodafone, says Gary Ellis, Sales Manager for Vodafone UK at Eltek.