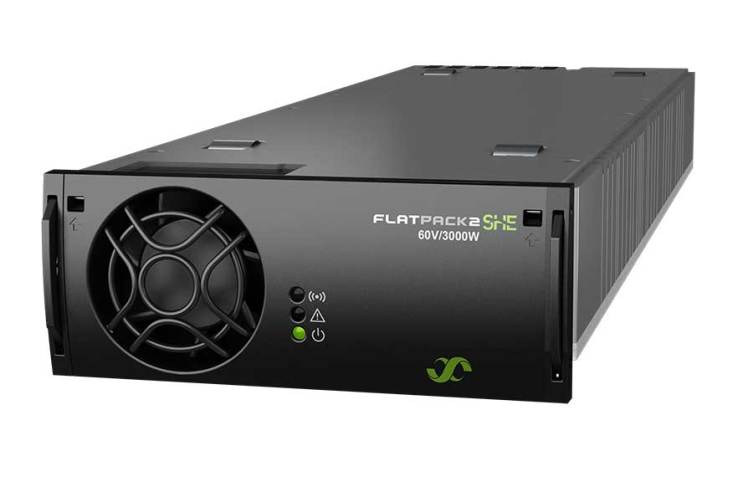 The Flatpack2 60V SHE rectifier is ready to replace older, inefficient equipment in 60V applications.
Going greener with GaN
The Flatpack2 60V SHE rectifier takes the lead in Super High Efficiency power conversion based on the game-changing GaN transistor technology.
The Flatpack2 60V SHE rectifier is Eltek's third model in volume production featuring GaN power transistors, allowing for super high conversion efficiency of 98 percent, significantly reducing energy loss and environmental footprint.

With an output voltage of 60V and power of 3kW, the rectifier is particularly aimed at markets where 60V applications are abundant, first and foremost Germany. Current power conversion equipment in these markets typically have conversion efficiency rates of around 90%. The 98% efficient Flatpack2 60V SHE rectifier will have a profound effect when it comes to reducing heat dissipation and CO2 emissions, as well as operating costs.
GaN is the key
Infineon's CoolGaNTM power transistor is the key to the rectifier's super-high efficiency and ultra-high reliability. Eltek is probably the first vendor to exploit the GaN technology in market-ready solutions, and is one of the largest users of high-voltage GaN in the world. Eltek benefits from our partnership with Infineon in the development of this potent technology, where Eltek's role has been to test its behavior and suitability in real-life applications.
Superfast development – attractive product
True to the product's inherent super high efficiency, three committed engineers brought the project from the drawing board to delivery within weeks. In addition to the efficiency improvement, the GaN transistor technology brings improved reliability and is very well suited for efficient, fault-free manufacturing. The product is also backwards compatible with all 3kW Flatpack2 versions, making it super-simple for customers to reap the benefits just by replacing modules.