Achievements
Eltek winner of national innovation award for the Rectiverter
Drammen, Norway, 20 October 2016: Eltek is the winner of the NHO (The Norwegian Confederation of Business) Innovation Award 2016 for its ground-breaking Rectiverter product.
The award is the most prestigious innovation prize in Norway, and has been awarded yearly since 1981 to honour innovation and entrepreneurship.
"The Rectiverter represents a disruptive power technology that overturns power systems design. The Rectiverter reduces complexity and cost while keeping the power solution just as effective. The jury emphasized the fact that electricity is fundamental to society now and even more into the future; for instance, we speak about smart societies in which an adequate supply of electricity is a precondition for all digitized services we envisage in the smart society of the future. The jury also noted that Eltek's continuous focus on product development and the fact that the company since the start in 1971 has expanded to 40 countries and 2,500 employees," the jury said as it announced the award at the Corporate Innovation Day, a part of Oslo Innovation Week 2016.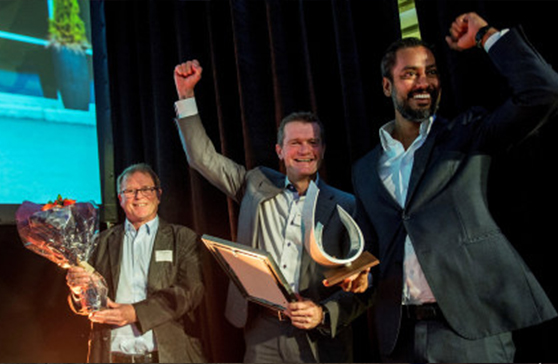 eidar Hagen, Chief Technical, Officer Morten Schøyen, Chief Marketing Officer og Satvir Singh Parmar, Vice President Innovation are very happy to win the NHO Award. Photo: Farstein Rudjord
The Rectiverter was launched in February 2016. It combines a rectifier, which converts AC to DC, and an inverter, which converts DC to AC, into one box through which power may flow in both directions. This simplifies power system complexity, reduces system size and improves overall system reliability, resulting in reduced total cost of ownership over the product lifetime.
"Since the company was founded in 1971, Eltek has been the leading innovator always pushing power technology forward. I am extremely proud of the work we have done on the Rectiverter, and I am equally proud of the tremendous recognition this award represents, said Satvir Singh Parmar, Vice President Innovation at Eltek.
There are numerous applications for this technology, throughout Eltek's market segments, including supplying power to areas that are currently off grid, by setting up so-called microgrids.
"The Rectiverter takes us towards a future power grid that needs to be more flexible than it is today, while avoiding increased complexity. The Rectiverter fits this bill prefectly, said Mr. Parmar.
Read more about the Rectiverter here: http://www.eltek.com/rectiverter/
---
For further information:
Morten Schoyen, Chief Marketing Officer
+47 915 17 452
morten.schoyen@eltek.com