Organisation
50 years in power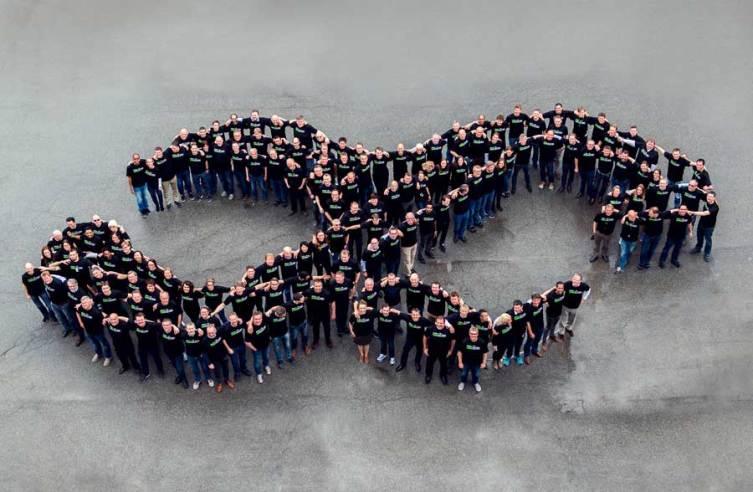 Time flies when you're having a good time. 50 years have gone by since Eltek was established in a 30 square meter all-purpose office/workshop in Drammen, Norway.
It all started with the founder Alain Angelil and fire safety and alarm systems, but before long, power became the core business. The Norwegian telco monopoly Televerket was the first customer to buy Eltek's first product – a battery charger.
Part of the telecom history
The history of Eltek runs in parallel with the evolution of the telecom, internet and smartphone technology that so profoundly has changed way of life and made the world a smaller, connected place. Things we take for granted today, like socializing in media, broadcasting film and images effortlessly, from anywhere to anyone anywhere, and meeting each other and working together in the digital realm was merely a futuristic dream in the heads of a handful scientists back in 1971. Families (in Norway, at least) had to apply and queue up for months in order to have a telephone installed.
A question of infrastructure
There was something cooking. The Nordic countries played a key role in the establishment of the GSM standard for wireless communication, and by the early 80's, companies like Nokia and Ericsson had made their first generation "mobile" telephones. This opened opportunities for companies that could help build a robust, technologically advanced infrastructure. We all know what happened. Then came the PC. The first smartphones. The cloud. The Internet-of-things. Everyone has their own computer in their pocket. We are in the digital age.
None of this could have happened had there been no infrastructure to support it, and no power to support the infrastructure. This is where Eltek has played a part as one of very few global telecom power providers, with leading technology and a will and a way to earn a reputation as a power technology leader.
Many milestones
In 1978, Eltek introduced the switch-mode technology, which enabled modular power systems, and in 1983 took the first steps out of Norway and set up shop in the UK. In 1988, Eltek stood out with its green SMPS 6000 rectifier system, around the same time as the GSM standard was established. Eltek set up business in Hong Kong in 1993, and in Germany in 95, and the Nokia Communicator handset was introduced in 1996 – big and bulky by today's standards, but a symbol of modernity at the time. To sustain its appetite for growth, Eltek was listed on the Oslo Stock Exchange in 1998. In 2000, Eltek ventured into North America through the acquisition of PCP near Chicago. Not long after, the "telecom crisis" came along and cooled the telecom market down to well below zero, before warming gradually up again. 2005 saw the coming of both Facebook and the Flatpack2 rectifier, and in 2008, a few months after the sensational iPhone had been unveiled, the Flatpack2 HE, with its revolutionary 96.5% efficiency, set an entirely new standard for rectifier efficiency.
The Rectiverter, is a new concept in power conversion, and was developed and released in 2016. It combines the functionality of a rectifier, an inverter, and a static transfer switch in one bidirectional power module. The Flatpack2 SHE (super high efficiency rectifier), was released in 2017, again raising the bar and setting a new standard for power conversion efficiency at 97.8%.
Over the years, Eltek has grown from a small basement startup with a handful of enthusiasts and a turnover the first year of approximately EUR 10,000 (although many years prior to the euro itself) to a multi-billion global business with offices in 40 countries and some 3,000 employees – all the time guided by the vision "the greatest power in the industry" and the core values; technologically ambitious, culturally sensitive and aggressively competitive.
Stronger together
Competition has always been fierce, and in 2015 the two competitors Eltek and Delta joined forces, when Delta acquired Eltek. Incidentally, Delta also celebrates its 50th anniversary this year.
We are stronger together, with a combined 100 years of experience as power specialists, one common product road map and the specialties of the individual brands Eltek and Delta. This has by no means reduced ambitions and will to innovate.
Eltek is a healthy and fit 50 year old – still driven by the ambition to be a great power in the industry.