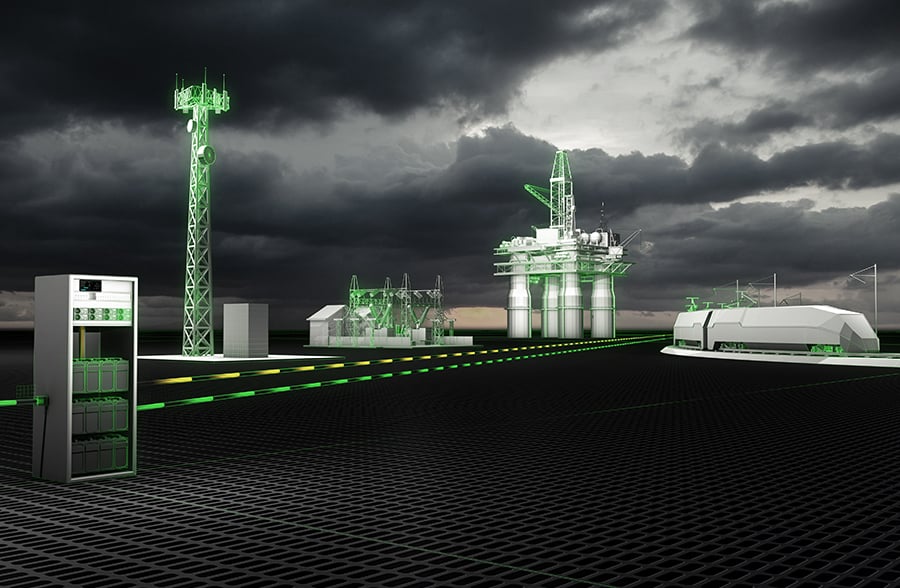 In depth
Rectiverter for various applications in any industry
A Rectiverter power system is an ideal solution for mixed AC and DC environments, in any industry. It provides a new level of flexibility and lower total cost of ownership.
Telecom: One power system - for both AC and DC
A Rectiverter system significantly reduces complexity and increases overview, control and reliability of AC and DC powered equipment in many telecom applications.
Most telecom installations have some sort of DC and AC supply with battery back-up. This is typically solved by separate DC systems and AC-UPS' or with inverter systems added to the DC system. Both solutions are costly in initial investment as well as during operation and service.
In Rectiverter-based systems, both AC and DC are available from one system, requiring a lot less space and providing a more reliable supply of power to the mission critical equipment.
The Rectiverter also fits in well in applications like Remote Radio Heads (using AC to feed the antennas) or in solar hybrid solution with AC load requirements.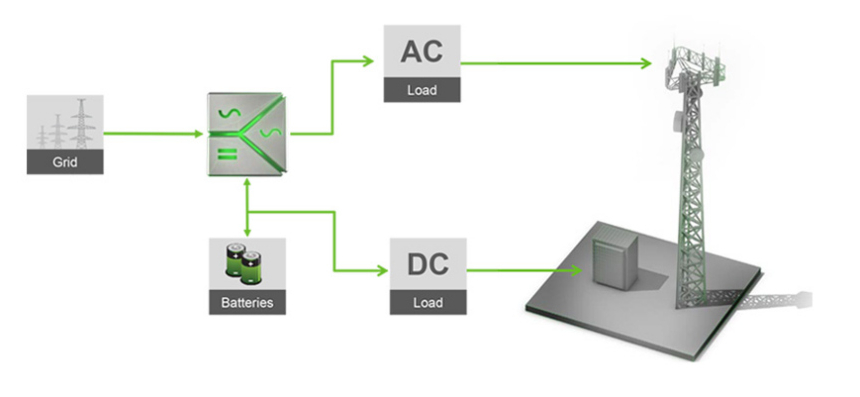 Rectiverter used in a standard Telecom application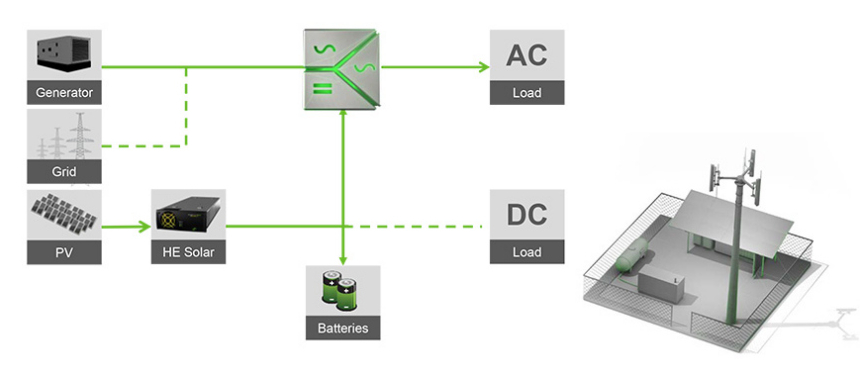 Rectiverter used in a hybrid Telecom application
Great news for "smaller" data centers
Data centers come in different sizes. The Rectiverter is perfect for distributed power solutions that support a single row of data cabinets.
Data centers are combined AC and DC environments where the Rectiverter concept - AC and DC output from the same unit - fits perfectly, like hand in glove. The data center is a complex environment, relying on a stable supply of power to critical applications. The Rectiverter significantly reduces complexity and increases overview, control and reliability of AC and DC powered equipment.
The Rectiverter is an integral part of our data center offering - CPS (Converged Power Systems) - and particularly in our Mini CPS solutions. These are downscaled, but complete, CPS solutions, dimensioned to support a single row of data cabinets. They still provide all the advantages of full scale systems - delivered as containerized, modular solutions.
In addition, they provide great flexibility, as the power infrastructure can be expanded as you grow, and the power systems can be adapted to the requirements in each row of cabinets.
A Rectiverter-based Mini CPS, combines 230Vac and 48Vdc output, and up to 100kW total capacity, including batteries and distribution
Railway & Metro: A smarter way to power rail infrastructure
A Rectiverter system significantly reduces complexity and increases overview, control and reliability of AC and DC powered equipment in your rail infrastructure.
There are many suitable applications for the Rectiverter in Rail & Metro. One example is level crossings where, for obvious safety reasons, there are very long back-up times.
Rather than using over-dimensioned AC UPS's with extra DC chargers, the DC capacity in the Rectiverter is sufficient to recharge the batteries. The added reliability with the modular design, redundancy and built in transfer technology, also adds to the attractiveness.

That's a major reason why the longest railway tunnel in the Nordic countries relies on Rectiverter systems to power critical applications.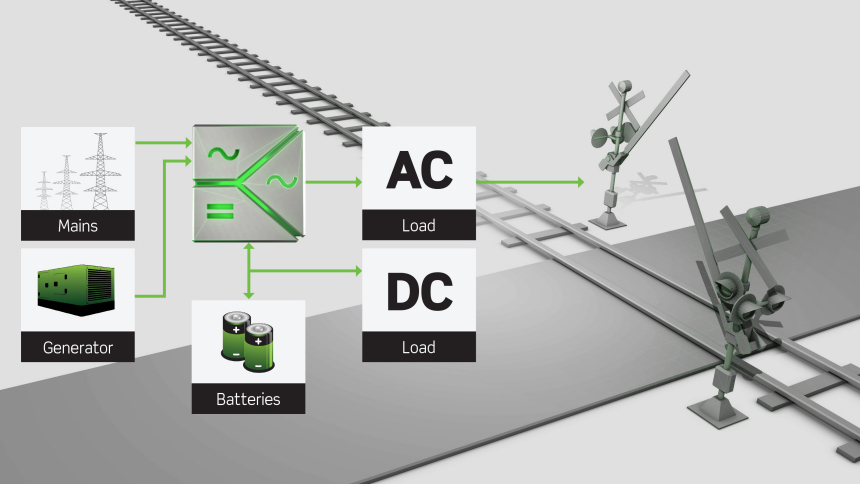 There are also many applications within Railway & Metro with a mix of AC and DC load requirements. Here the Rectiverter provides system simplification, improved reliability and reduced total cost of ownership.
Power Utilities: Smarter power for the grid
A Rectiverter system significantly reduces complexity and provides a new level of flexibility for AC and DC applications to power automation and communication, switch-gear control, safety and emergency systems and power plant control systems.
In such applications it is common to have a mix of different converters providing the required types and voltage levels. With the Rectiverter, the complexity is reduced as it provides both DC and AC from the same module. If further DC voltages are required, this can be achieved by additional Flatpack DC/DC converters, all controlled by a single Smartpack system controller
There are many applications within power utility were the Rectiverter fits in, including locations with any mix of AC and DC requirements or to fulfill UPS functions with very long battery back-up. In this case, the Rectiverter's built in DC capacity is able to recharge batteries without the additional charger required by other UPS.
Marine & Offshore: Safer, simpler and smarter power
A modular Rectiverter system will save space, improve flexibility and serviceability and ensure an optimal power availability for equipment and applications on board ships and offshore installations.

Unlike traditional monoblock UPS's, a modular Rectiverter system is scalable. System capacity and redundancy can be expanded to meet future needs, just by adding more modules.

A modular UPS is designed for redundancy, and a potential failure in the electronics will not have any operational impact. A module failure will initiate an alarm, and a person without any special training can replace the faulty module in a matter of seconds.
For a traditional UPS, a failure typically means that the whole unit needs to be serviced by a certified technician or the whole UPS needs to be replaced. This is much more costly than the UPS system itself.

Rectiverter modules have a very high MTBF, so the requirement for spares is limited.
This was a factor when the Rectiverter technology was chosen to power critical communication equipment at the world's first floating windfarm.