Market
High-end power conversion for high-end power generation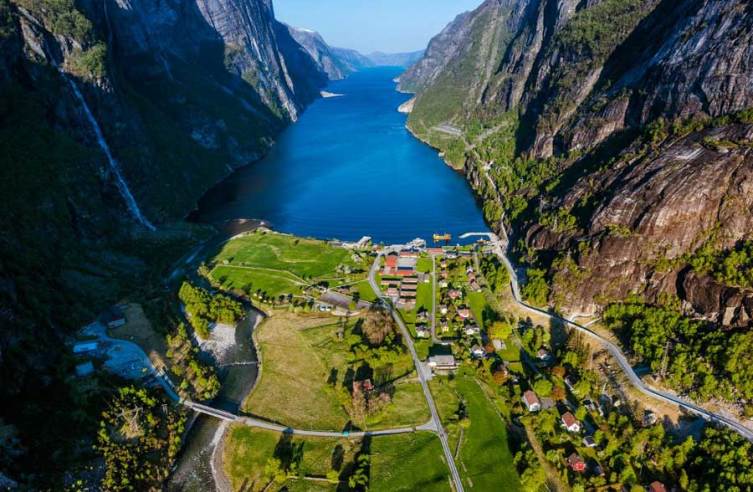 Image credit: Kristoffer Ryde
Eltek power solutions secure stable power generation from Norway' newest and most efficient hydropower plant.
Norway is a significant energy producer, due mainly to the oil and gas resources below the sea bed in the North Sea. But before oil & gas, there was - and still is - hydropower. Nature has bestowed upon Norway numerous lakes, waterfalls and rivers that lend themselves to hydropower generation. Hydropower is clean and renewable energy, and Norway reigns alone at the top when it comes to renewable's share of total domestic energy consumption. 1 550 hydropower plants, 1 000 reservoirs and 35 wind power plants contribute to a renewables share of 98% of total energy production.
Big battery
Norway has also been coned "Europe's battery backup". The energy contained in falling water is stored in reservoirs and saved for a sunny day, e.g. when market conditions make it most favorable. This ability to store energy is different from other renewables like wind or sun, which have to be harvested when the wind blows and the sun shines. So on still and grey days in Europe, surplus hydropower from Norway can be transmitted to Europe to fill the gap from other inflexible or polluting power sources. Therefore, hydropower is essential for Norway, as the dominant energy source, and also as a valuable export it is 100% renewable and emission free.
Lysefjord 2 – a new standard
The Lyse fjord cuts deep into the mainland near Stavanger in the south west of Norway, with steep mountains on both sides, including the famous tourist spot "the Pulpit". Where the fjord ends, the regional power utility Lyse has operated their powerplant "Lysebotn" for 60 years, utilizing the water from the lakes in the mountains high above. In the autumn of 2018, a brand new "Lysebotn 2" power plant was put into operation, replacing the old one. With unprecedented efficiency, flexibility and capacity, it will produce 15 % more energy from exactly the same source and volume of water, and provide electricity for 75 000 homes in the years to come.

The new power plant is located 1 500 meters inside the mountain, and represents an investment of NOK 2 billion (USD 200 mill) and is a showcase of modern hydropower technology. It handles water falling 686 meters, the highest in Norway (and probably in the entire world) for a plant running the highly efficient Francis type of turbines. The water flow is up to 60 000 liters per second, enough to fill a 50 meter swimming pool in 42 seconds.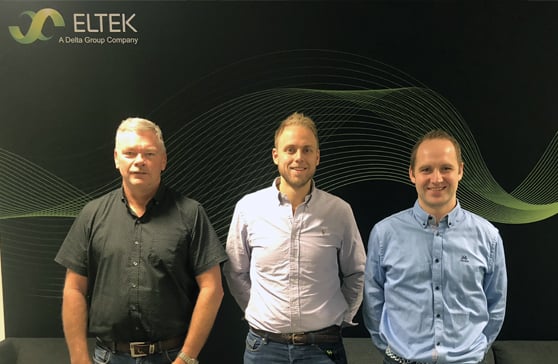 Eltek team: Per-Arne Meloun, Trond Brenna and Tobjørn Hafnor Larsen
Power for power – from Eltek
An AC power plant is a complex installation that relies on many subsystems to operate in a stable manner. Some of these may run on AC power and some on DC – and they all need backup power.
Eltek solutions are in place to deliver stable and efficient power for the plant's critical applicatons such as the main control system, for battery charging, and for oil pumps that ensure the right oil pressure in the turbine regulators. The plant has three such pumps – two redundant AC driven pumps that ensure continuous operation should one of them fail – and one DC pump that ensures continuous operation in the unlikely – but not to be ignored – event of a power fallout.

In detail, Eltek have so far delivered
2 pcs A+B 220 Vdc 24 kW with batteries and inverters
1 pcs 220 Vdc / 16kw system with batteries
1 pcs 220 Vdc/ 16kW with batteries